BLT Battle at Sea
August 26, 2012. Presented by: Eat Boston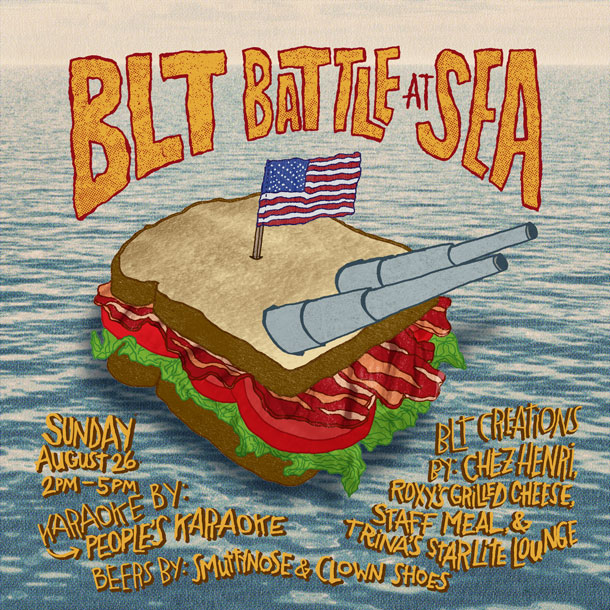 EVENT DETAILS
You may have heard the Bacon, Lettuce, and Tomato sandwich called the best sandwich. A mix of salty, crispy, and fresh. We had so much fun putting bacon on a boat in April, let's do it again. On August 26th, we'll be setting sail around Boston Harbor for a Sunday Funday with BLTs, beer, and karaoke. The BLT Battle at Sea is a showcase of BLT-related treats from
Trina's Starlite Lounge
,
Chez Henri
,
Roxy's Grilled Cheese
, and
Staff Meal
.
The Smuttynose Brewing Company
and
Clown Shoes Beer
will be there, too, providing tasty refreshments. And there will be karaoke from
The People's Karaoke
, so get your pipes ready. The karaoke was amazing last time, a high bar has been set. Each ticket entitles the purchaser to bites from each of the participants along with beers from Smuttynose and Clown Shoes. Smuttynose and Clown Shoes will be available for purchase for the entire cruise. Boarding begins at 1:30 at Gate C behind the Boston Harbor Hotel. What song are you going to sing?
This is a 21+ rain or shine event.
UPDATE 8/13:
St Germain
is teaming up with Smuttynose to make a Star Island Shandy beer cocktail. Good times!