2012 Boston Bacon and Beer Festival
April 28, 2012. Presented by: Eat Boston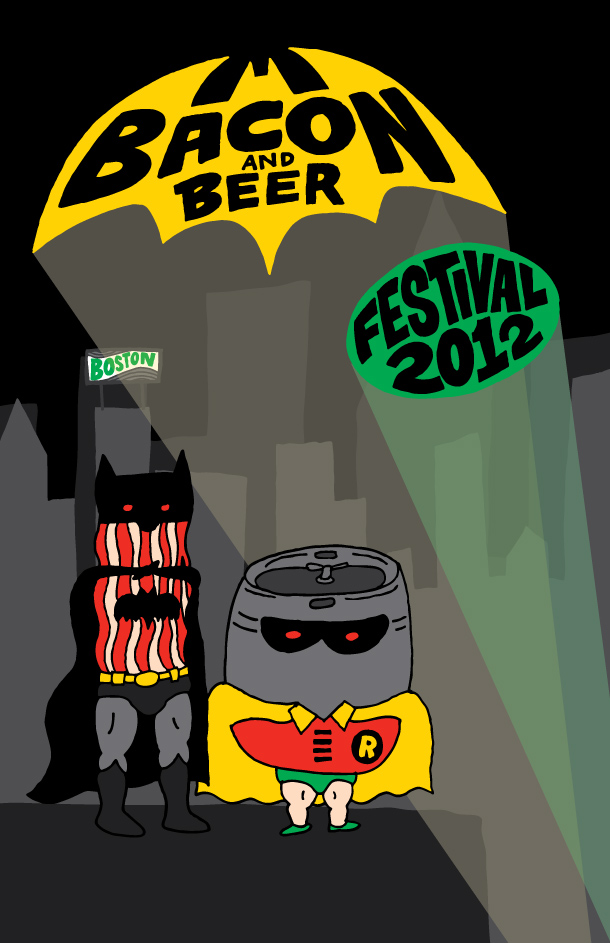 EVENT DETAILS
UPDATE
Clear weather forecast for Sunday's Karaoke Harbor Cruise has allowed us to release a few more tickets. Click here.
And there are still tickets available to the art show. Click here to buy: 6:30 showing or 8:00 showing.
2012 Boston Bacon and Week April 28th - May 5th

We've partnered with BostonChefs.com to bring an entire week of Bacon and Beer pairing specials at restaurants all over Boston. Check out BaconAndBeerWeek.com for all the latest information on Boston Bacon and Beer Week.
2012 Boston Bacon and Beer Festival - Saturday, April 28th 2:30PM-5PM
Kicking off 2012 Boston Bacon and Beer Week, the 2012 Boston Bacon and Beer Festival will be Saturday, April 28th from 2:30 PM to 5:00 PM at  the House of Blues Boston. Restaurants and purveyors from all over will be preparing their tastiest bacon based dishes for you to sample paired with beers from New England's greatest breweries. If that's not a good enough way to spend a Saturday afternoon, you should know that it's also a benefit for the local hunger relief organizations Lovin' Spoonfuls and Community Servings. Your ticket gets you in to Bacon and Beer Fest where you'll be able to sample the dishes and the beer. There will be other people there with the same intention, so remember to share.
The Bacon
Aquitaine French Bistro, b.good, Bambara, Bridgestreet, Chez Henri, Eat at Jumbo's, Garden at the Cellar, Gaslight Brasserie, Harvest, JM Curley, Local 149, MET Back Bay, Ned Devine's, Ole, Petit Robert Central, Picco, Roxy's Grilled Cheese, Staff Meal Food Truck, Tastings Wine Bar and Bistro, Tavolo, The Fireplace, The Gallows, Tremont 647, Trina's Starlite Lounge, Union Bar and Grille,  wicked kickin' savory cheesecakes, Whole Foods Market - Symphony, Zoe's Meats
The Beer
21st Amendment, Blue Hills Brewery, Sam Adams, Brooklyn Brewery, Cambridge Brewing Company, Cape Ann Brewing Company, Cody Brewing Company, Harpoon Brewery, High and Mighty Beer, Mayflower Brewing Company, Mercury Brewing Company, Narragansett Beer, New Planet Beer, North Coast Brewing, Notch, Peak Organic Brewing Co., Rapscallion, Revival Brewing Company, Smuttynose Brewing Company, Trinity Brewhouse.
Restaurants and breweries are subject to change.
This event is 21+ and SOLD OUT. There MAY be an opportunity for a handful of additional tickets to be released. The waiting list is here.
Bacon and Beer Art Show - Wednesday, May 2nd 6:30PM-8PM and 8PM-9:30PM
We aim to prove people like looking at Bacon and Beer almost as much as eating and drinking it, so we're producing a Bacon and Beer inspired art show with Super Precious Art Gallery. On May 2nd, come out to PA's Lounge in Union Square, Somerville for 1 of 2 viewings. Enjoy contemporary art inspired by bacon and beer from 15+ artists while munching on bacony offerings from Stone Hearth Pizza Company and Zoe's Meats, with beer from Watch City Brewing Company, Clown Shoes Beer, and Left Hand Brewing Comapny.
This is a 21+ rain or shine event. Tickets are $10 and there are two showings. Click here to buy tickets: 6:30 showing or 8:00 showing.
Bacon and Beer Fest Karaoke Harbor Cruise - Sunday, April 29th 2PM-5PM
Join us on Sunday Funday for a bacon and beer karaoke cruise of Boston Harbor. With Karaoke provided by international Karaoke All Stars, The People's Karaoke, enjoy bacon treats from Roxy's Grilled Cheese and Staff Meal, and beer from The Smuttynose Brewing Company and Dogfish Head. Each ticket entitles the purchaser to a complimentary Smuttynose and Dogfish Head, along with a bite each from Staff Meal and Roxy's. Dogfish Head and Smuttynose will be available for purchase for the entire cruise. Boarding begins at 1:30 at Gate C behind the Boston Harbor Hotel. What song are you going to sing?
This is a 21+ rain or shine event. This event is currently SOLD OUT. Weather permitting, we will release more tickets the week of the event. The waiting list is here.
Other events:
Chef Louie Night is doing a Bacon and Beer inspired event on the evening of 4/29. Tickets here.
"Craft" Macaroni & Cheese night at Church. Bacon mac and beer pairing special on 4/30.
Bacon and Beer Pasta Tour 3 course dinner at Tavolo on 5/2.
Get yourself an awesome Bacon and Beer T Shirt here! $16 each, 2 for $26.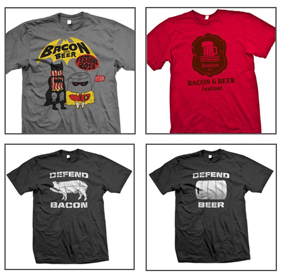 If you have any questions, send an email
| Restaurant | Their Bacon |
| --- | --- |
| Aqtiutaine Bar a vin Bistrot | Fava bean puree, with mustard greens & ephemere braised bacon |
| b.good | Chocolate bacon milkshakes |
| Bambara | Pretzle coated bacon |
| bridgestreet | "Bacon and Eggs" |
| Chez Henri | Smoked Cod and Lobster Chowder with Chile Lime Butter and Bacon Lardon |
| Eat at Jumbos | Narragansett Maple Bacon Donuts |
| Garden at the Cellar | Bacon Gougère with Fresh Bacon & Maple-Soy Braised Onions |
| Gaslight Brassery | Crispy House Made Bacon on a stick |
| Harvest | Bacon Cotton Candy |
| jm Curley | Bacon sandwich |
| Local 149 | Caramel Bacon Popsicle |
| MET Back Bay | Pork Rillette Tea Sandwiches with Nori, Sour Plum & Pickled Watermelon |
| Ned Devine's | Bacon Grilled Cheese |
| Ole Restaurant Group | Bacon Guacamole |
| Petit Robert Central | Pork Belly Pissaladiera |
| Picco | Chili |
| roxys grilled cheese truck | Green Muenster Grilled Cheese |
| Staff Meal Food Truck | Fried Chicken Skin with Bacon Dip |
| Starlite Lounge | Bacon donuts with bacon praline ice cream and chocolate stout sauce |
| Tastings Wine Bar and Bistro | Lamb bacon and kale salad with parsnip vinaigrette |
| Tavolo | Blue Hills Brewery Porter Ice Cream Float with Bacon Jimmies |
| The Fireplace | Mayflower Porter Glazed Bacon over Creamy Garlic Spinach, Cornmeal Porridge & Fried Shallots |
| The Gallows | Beer Braised Bacon Meatballs |
| Tremont 647 | Andy's House Cured Bacon BLA |
| UNION bar and grille | Bacon Chocolate Pretzel Bar |
| Whole Foods Market- Symphony | Battered Bacon-Wrapped Plantains |
| Wicked Kickin' Savory Cheesecakes | Bacon Cheesecakes |
| Zoe's Meats of Boston | Bacon, pacetta, guancial |
Breweries
Their Beer
21st Amendment Brewing Company
"Hell or High Water Watermelon Wheat Beer, Bitter American Pale Ale"
Blue Hills Brewery
IPA, Black Hops - dark ale, Comet Tail - pale ale, Watermelon Wheat
Boston Beer Co
TBD
Brooklyn Brewery
Brooklyn Companion Ale Wheatwine, Brooklyn Mary's Maple Porter
CAMBRIDGE BREWING COMPANY

Charles River Porter 6.0% abv Rich and roasty with notes of caramel and unsweetened chocolate and an espresso-like finish to complement the rich goodness of bacon!

Rye and Punishment - 7%abv India Pale Ale brewed with malted rye and Columbus and Fuggles hops. Spicy grain flavors, floral hops and aggressive bitterness to balance your bacon!

Cape Ann Brewing Company
Kevin Bacon Barleywine, Sunrise Saison
Cody Brewing Company
Honey Gingah Pale Ale, Wheelers Brown Ale, Original Amber Ale, S.O.S
Harpoon Brewery
Harpoon Dark, Bacon Bock, Harpoon IPA, Rich And Dan's Rye IPA
High & Mighty Beer Co.
Beer of the Gods, XPA, Fumata Bianca, Sono Distrutto
Mayflower Brewing Company
TBD
Mercury Brewing Company
TBD
Narragansett Beer
Narragansett Lager, Narragansett Bock, Narragansett Cream, Narragansett Porter, Narragansett Summer
New Planet Beer Company
Tread Lightly Ale - Gluten Free, 3R Raspberry Ale - Gluten Free, Off the Grid Pale Ale - Gluten Free
North Coast Brewing Company
Pranqster Belgian Golden Ale, Brother Thelonius Belgian Dubbel Ale
Notch Brewing
Notch Pils, Notch Session Ale
Peak Organic Brewing Co.
TBD
Rapscallion
Honey and Blessing
Revival Brewing Company
TBD
Smuttynose Brewing Company
TBD
Trinity Brewhouse
TBD