2017 Jack London Square Block Party Series
Come eat food and drink beer while you hang out with your pals in Jack London
Presented by: Jack London Square, Bison Organic Beer, and Eat Boston.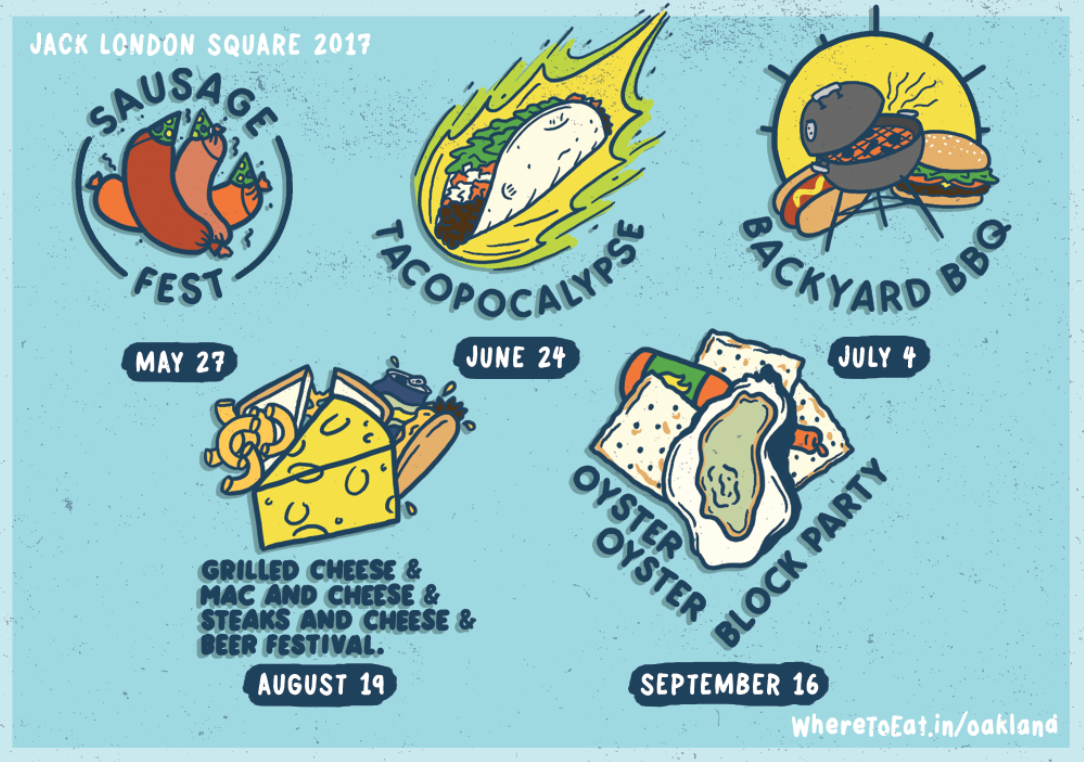 Come outside and enjoy our free, family friendly, food-themed block parties throughout the summer. These events are FREE FREE FREE to attend, so just show up hungry and thirsty. Enjoy themed dishes from some of your favorite eateries, tasty beers and ciders from top breweries, along with local businesses and artisans on hand showing off their wares. Questions? Get in touch. For details as they develop, sign up here. This page will change as individual event pages become available.
Sausage Fest
Saturday May, 27
Brats, dogs, wursts. Don't be a wiener, come enjoy sausage in all its forms. See participant list, RSVP, and invite your pals here.
Tacopocalypse
Saturday June 24
Hard shell, soft shell, corn, flour, taste one of each of the world's greatest finger food.
Backyard BBQ
Tuesday, July 4
Celebrating the art of grilling outside from days gone by. Burgers, dogs, chicken, it'll get nostalgic.
Grilled Cheese &
Mac and Cheese &
Steaks and Cheese &
Beer Festival
Saturday, August 19
It is what it says it is. This is the first time you can go to 4 festivals all at the same time. See participant list, RSVP, and invite your pals here. | Shirts
Oyster Oyster Block Party
Saturday, September 16
Shuck'em, suck'em, and slurp'em down. See participant list, RSVP, and invite your pals here.
Information
If you have a questions about the event send an email. If you'd like to participate as a vendor (food, beer, or otherwise) or to be ask about sponsorship levels, apply here. Details subject to change. These are family friendly events, 21+ to drink alcohol.
Sponsors