2017 SoWa Beer Garden Block Party Series
Come eat food and drink beer while you hang out with your pals at SoWa open market
Presented by: Eat Boston and GTI Properties.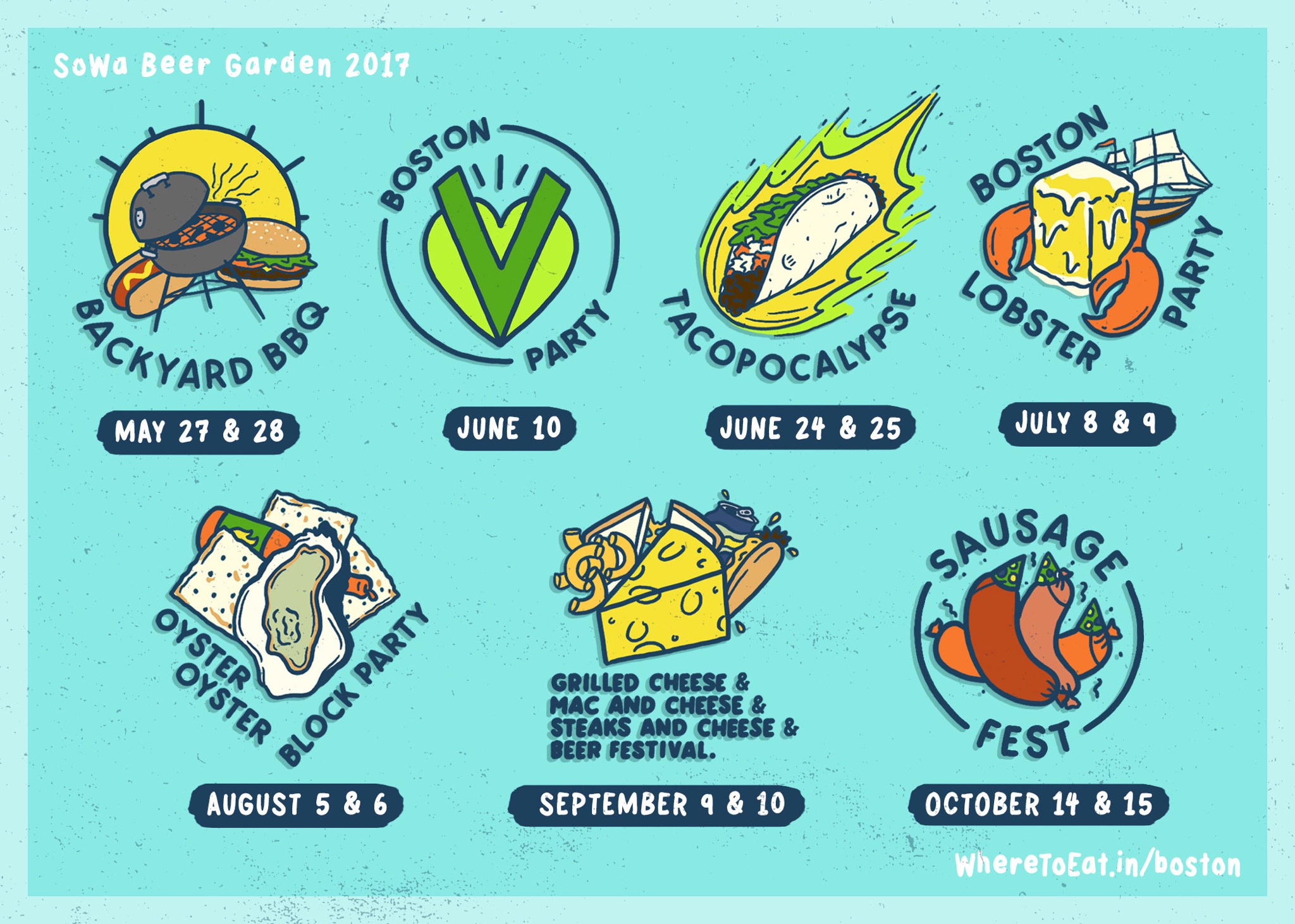 Come outside and enjoy our free, family friendly, food-themed block parties throughout the summer. These events are FREE FREE FREE to attend, so just show up hungry and thirsty. SoWa Open Market is every Saturday and Sunday from April 29th to October 29th, with an arts market, a farmers market, and of course a combined beer garden and food truck bazaar. On 7 special weekends, though, you'll be able to enjoy themed dishes from some of your favorite food trucks, along with additional tasty beers and ciders from top breweries. Questions? Get in touch. For details as they develop, sign up here. This page will change as individual event pages become available.
Backyard BBQ
Saturday, May 27 and Sunday, May 28
Celebrating the art of eating in the backyard from days gone by. Burgers, dogs, chicken, it'll get nostalgic.Click here to invite your pals or RSVP.
The Boston V Party
Saturday, June 10
Boston's first vegan food and beer festival. Come try out the best and most creative plant-based offerings from your area favorites. (Note: This event is up the block at 500 Harrison Ave). Click here to invite your pals or RSVP.
Tacopocalypse
Saturday, June 24 and Sunday, June 25
Hard shell, soft shell, corn, flour, taste one of each of the world's greatest finger food.
Boston Lobster Party
Saturday, July 8 and Sunday, July 9
Back for the first time since 2010, the Boston Lobster Party celebrates this New England specialty.
Oyster Oyster Block Party
Saturday, August 5 and Sunday, August 6
Shuck'em, suck'em, and slurp'em down.
Grilled Cheese &
Mac and Cheese &
Steaks and Cheese &
Beer Festival
Saturday, September 9 and Sunday, September 10
It is what it says it is. This is the first time you can go to 4 festivals all at the same time. Click here to invite your pals or RSVP. | Shirts
Sausage Fest
Saturday, October 14 and Sunday, October 16
Brats, dogs, wursts. Don't be a wiener, come enjoy sausage in all its forms.
Information
If you have a questions about the event send an email. If you'd like to participate as a vendor (food, beer, or otherwise) or to be ask about sponsorship levels, apply here. Details subject to change. These are family friendly events, 21+ to drink alcohol.
Sponsors