2014 Whiskey Rebellion Oakland at Art + Soul Oakland
August 3rd, 2014.
Presented by: Eat Boston and Oakland Grown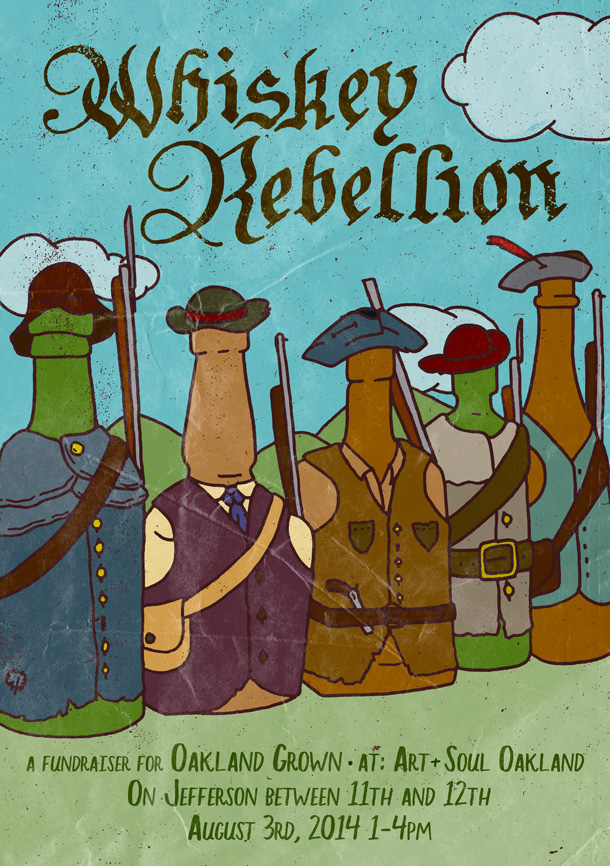 EVENT DETAILS
UPDATE: Please note, the event has been moved to 12th Street between Jefferson and MLK Way.

Whiskey Rebellion Oakland, a showcase of American brown spirits, will be Sunday, August 3rd from 1-4PM at Art + Soul Oakland to raise money for Oakland Grown. We've rounded up a terrific crowd of whiskey producers and suppliers representing quite a few varieties of whiskey. More information will be available soon, but in the meantime, please sign up on the email list to be the first to hear. If you're coming, invite your friends by RSVP'ing here. Please note, a ticket to Art + Soul Oakland is required for entry to Whiskey Rebellion. Current list of participating distillers/producers: Amador, American Still Life, Angel's Envy, Craft Distilleries, Diageo, High West, Jefferson's, Russels Reserve, Seven Stills, Sonoma County Distilling Company , Tahoe Moonshine, Templeton, Wild Turkey. And here's the list of whiskeys!

2nd Chance Wheat Whiskey,
American Craft Rye Whiskey,
American Craft Straight Bourbon Whiskey,
High West American Prairie Bourbon,
Angel's Envy Rum Finished Rye Whiskey,
Angel's Envy Port Finished Bourbon,
Baker's,,
Basil Hayden's,
Booker's,,
Breckenridge Bourbon,
Breuckelen Distilling Wheat Whiskey,
Bulleit Bourbon 10 year,
Bulleit Bourbon,,
Bulleit Rye,,
High West Campfire,
Dancing Pines Bourbon,
Danger Dog Organic Cinnamon Whiskey,
Forgiven,
Gentleman Jack,
George Dickel Barrel Select,
George Dickel Single barrel,
George Dickel Tennessee Whisky No 12,,
George Dickel Tennessee Whisky No. 8,,
Jack Daniel's Single Barrel,
Jack Daniel's Tennessee Honey,
Jack Daniel's Tennessee Whiskey,
Jacob's Ghost,,
Jefferson's Reserve Bourbon,
Jefferson's Very Small Batch Bourbon,
Jim Beam 8 year old,,
Jim Beam Bourbon,,
Jim Beam Devil's Cut,
Jim Beam Maple,Honey & Kentucky Fire,,
Jim Beam Signature Craft 12 Yr,,
Jim Beam Single Barrel,
Knob Creek 9 year,,
Knob Creek Single Barre,
Knob Creek Smoked Maple,,
Low Gap Blended Whiskey,
Low Gap Clear Rye,
Low Gap Malted Wheat,
Maker's 46,
Maker's Mark,
Old Forrester,
Orphan Barrel Rhetoric & Varterhouse,
Red Stag Black Cherry,
High West Rendezvous Rye,
Russell's Reserve 10 Year Old Bourbon,
Russell's Reserve 6 Years Old Rye,
Russell's Reserve Single Barrel,
Smooth Ambler 7 Year Bourbon,
Smooth Ambler 7 Year Rye Whiskey,
High West Son of Bourye,
Sonoma Rye Whiskey,
Stormin' Whiskey,
Tahoe Moonshine White Dog,
Tempelton Rye Whiskey,
Wild Turkey 81 Bourbon,
Wild Turkey 81 Rye,
Wild Turkey Rare Breed,
Woodford Reserve,

Details subject to change. This is a 21+ event. Ticket to Art + Soul Oakland required for entry to Whiskey Rebellion.

How about a nice shirt with lettering by Josh LaFayette?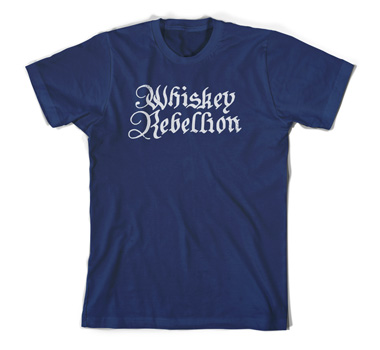 If you have a question about the event or if you're interested in participating or sponsoring, send an email.